Bill Sampino, The Patriarch of Sampino's Towne Foods on F and 16th streets, is not just the father of Michael, the visionary creator and main owner of this 12-years young institution in the heart of mid-town, he is quite possibly the heart of the entire operation. At least that's how it seemed to this writer. Bill told us the story of Sampino's birth and growth with as much love for the place as any father might have for his son, all while Goodfellas played on the TV behind us, Andrea Boccelli rang out through the sound system, and groups of happy diners filled every available table at 2:30pm on a Thursday.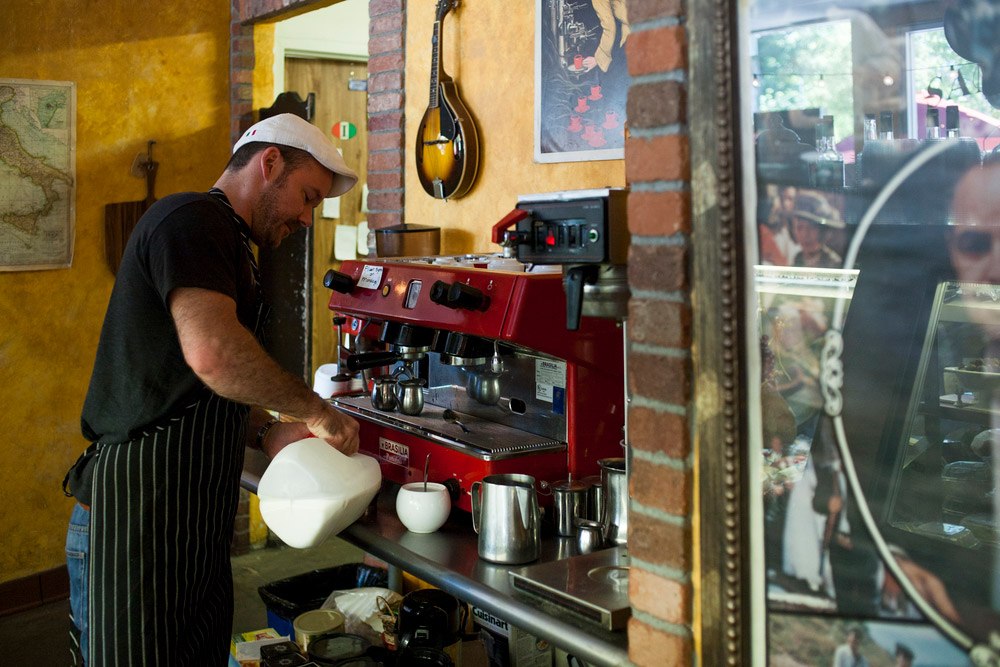 Bill's love for creating delicious, welcoming dining experiences for his customers and the venue's festive, Italian ambiance makes Sampino's a difficult place to leave. The restaurant's aim, says Bill, is to recreate that lively, old-world European/East Coast Vibe. "People say they feel like they're in a family restaurant in Boston or New York when they come in, and I love that."
At a certain point, Sampino's grew so successful that it became imperative they expand. Lucky for them, the restaurant next door went out of business affording Mike and Bill the opportunity to buy and replace it with their now famous Tuscan Dining Room. The acquisition of that space also doubled their kitchen size (they literally have TWO kitchens) and created so much space behind the scenes, we wouldn't be surprised if another expansion of the dining area weren't on short order.
We wouldn't put it past Bill.
At 73, this man is nowhere near slowing down. He is brimming with ideas for ways to upgrade the layout of the building's interior, making the dining experience, he says, "even nicer for our customers." While he walked us through a cozily decorated hallway of charming family photos, I asked Bill what makes Sampino's different from other restaurants of its kind. "The Sausages, the meatballs, the Raviolli are all home-made. Our food is very good. We really know what we're doing and we're really proud of that."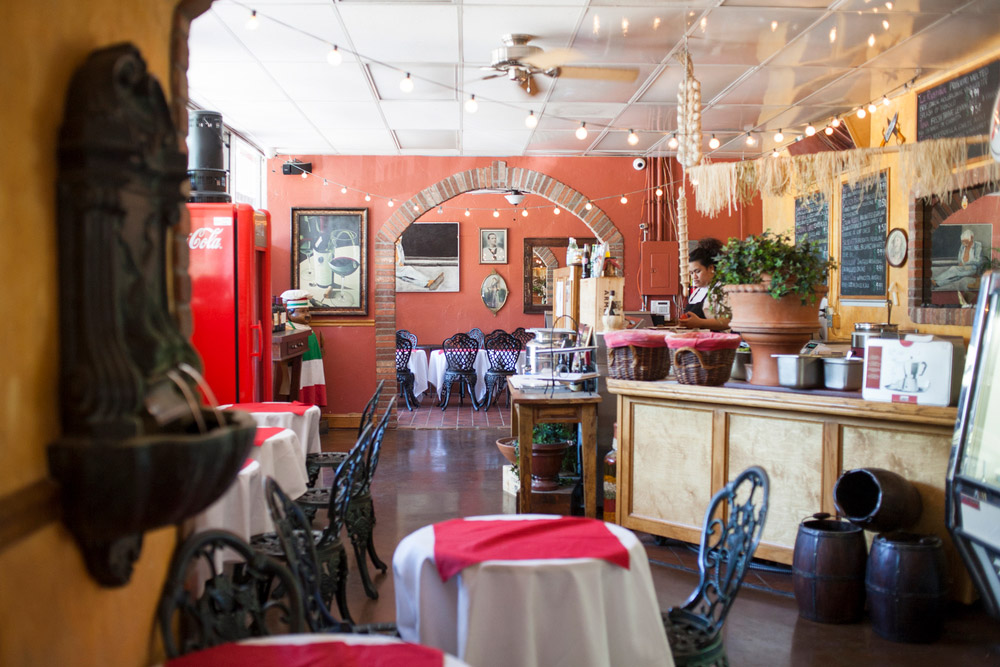 When I asked Bill to what he attributed Sampino's wild success (their twice-monthly family style dinner for 50, where people who would otherwise never meet, sit together at one long table, sells out 2 months ahead of time), he said nothing of his 40 years of experience in the fresh meat industry, but responded selflessly: "It's family. And we really care. My grandkids work here, I work here, the restaurant is my son's, my daughter-in-law is here, and my wife does the book keeping."
Family-style indeed!
I certainly felt cared for and welcomed when, after our interview, Bill made both our photographer and myself fresh cappuccinos with homemade biscotti on the side. And OH MY was that biscotti delicious. Lyricist Douglas Cross may have left his heart in San Francisco, but mine is at a table at Sampino's.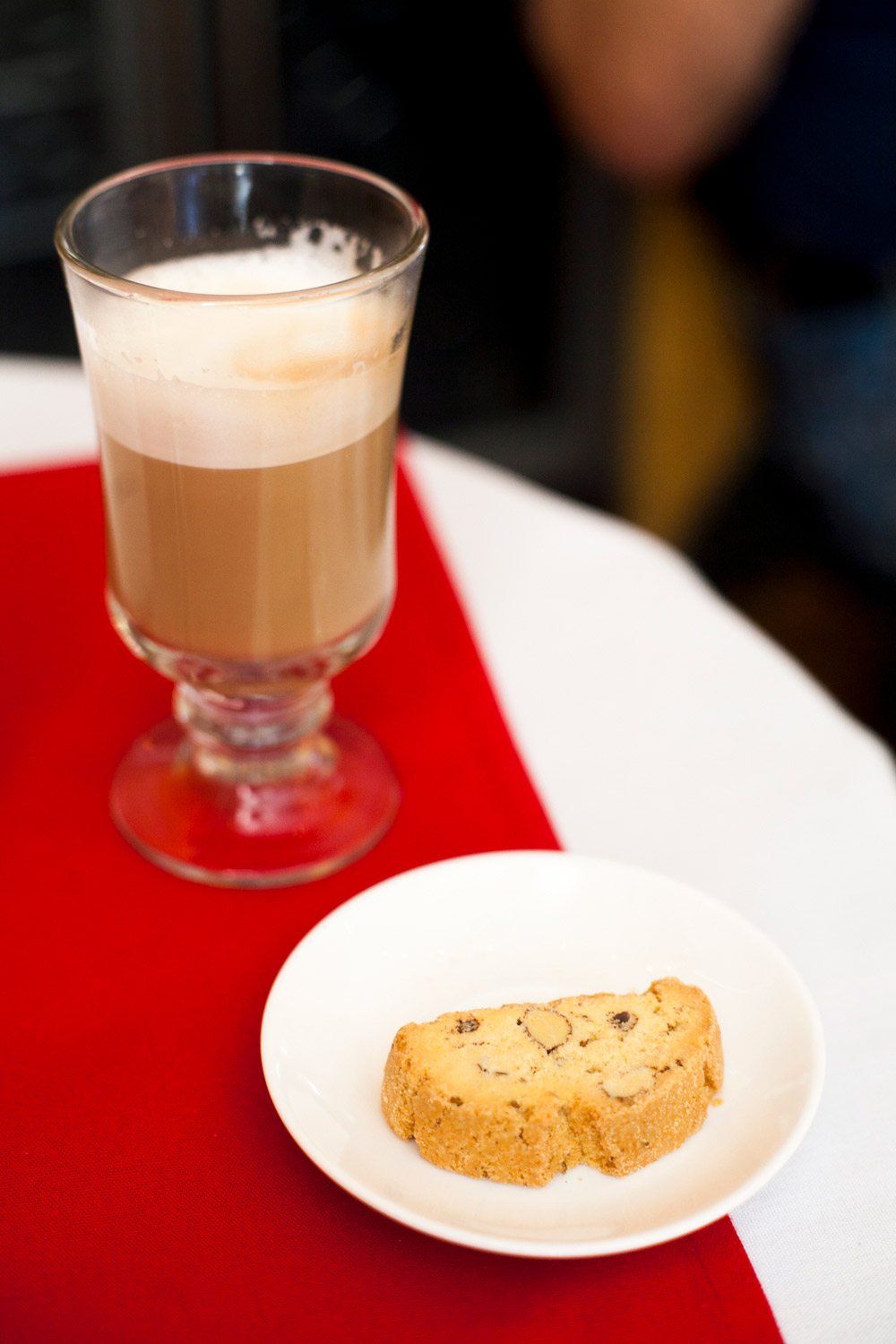 Get to know your neighbors and reserve your seat for their family style dinner! Travel across the ocean without ever leaving home, by calling 916-441-2372. You won't regret it!