Cameron Walker: A Portrait
If you missed Sacramento's Second Saturday Art-Walk last weekend, don't worry—there's still time to see Cameron Walker's one-man exhibition! The Tim Collom Gallery at 915 20th Street in Mid-town will be showing this gorgeous collection of watercolors through July 4th. In a variety of sizes, he's focusing primarily on subject matter that's more personal and local than what he's done previously. It's exciting to see a busy artist who still pushes the boundaries of his medium to discover new possibilities. In the last 6 months he's been able to produce 8 new pieces, including On The Indigo, Beach Day, and Pelaton, pictured below.
In the past he's produced many paintings and commissions with a close attention to detail. Balanced compositions of boats and vessels were an obsession for a while and he enjoyed planning and rendering his composition in pencil before starting in with the washes of color. However, over the past few years he's grown into a more spontaneous and energetic way of painting that utilizes negative space and gives his viewers the chance to interact with the artwork. His shapes of color and then careful absences of paint makes the untouched paper surface seem to take three-dimensional form even though they are simple voids.
Having grown up with an artist father and an illustrator grandfather he was introduced to sketching and painting at an early age. Years later, as a reconnaissance Marine operating as a combat water safety instructor he still painted while serving overseas. Watercolors afforded him the ability to transport his materials and with that, the possibility to practice when he had time and space available. Nowadays he's excited to pull some much deserved attention to the art of watercolor. It's a challenging medium, especially to produce at any substantial size, but a process he has always enjoyed. Watercolors, though he'll say are not as popular as he wishes they were, are his medium of choice and always will be.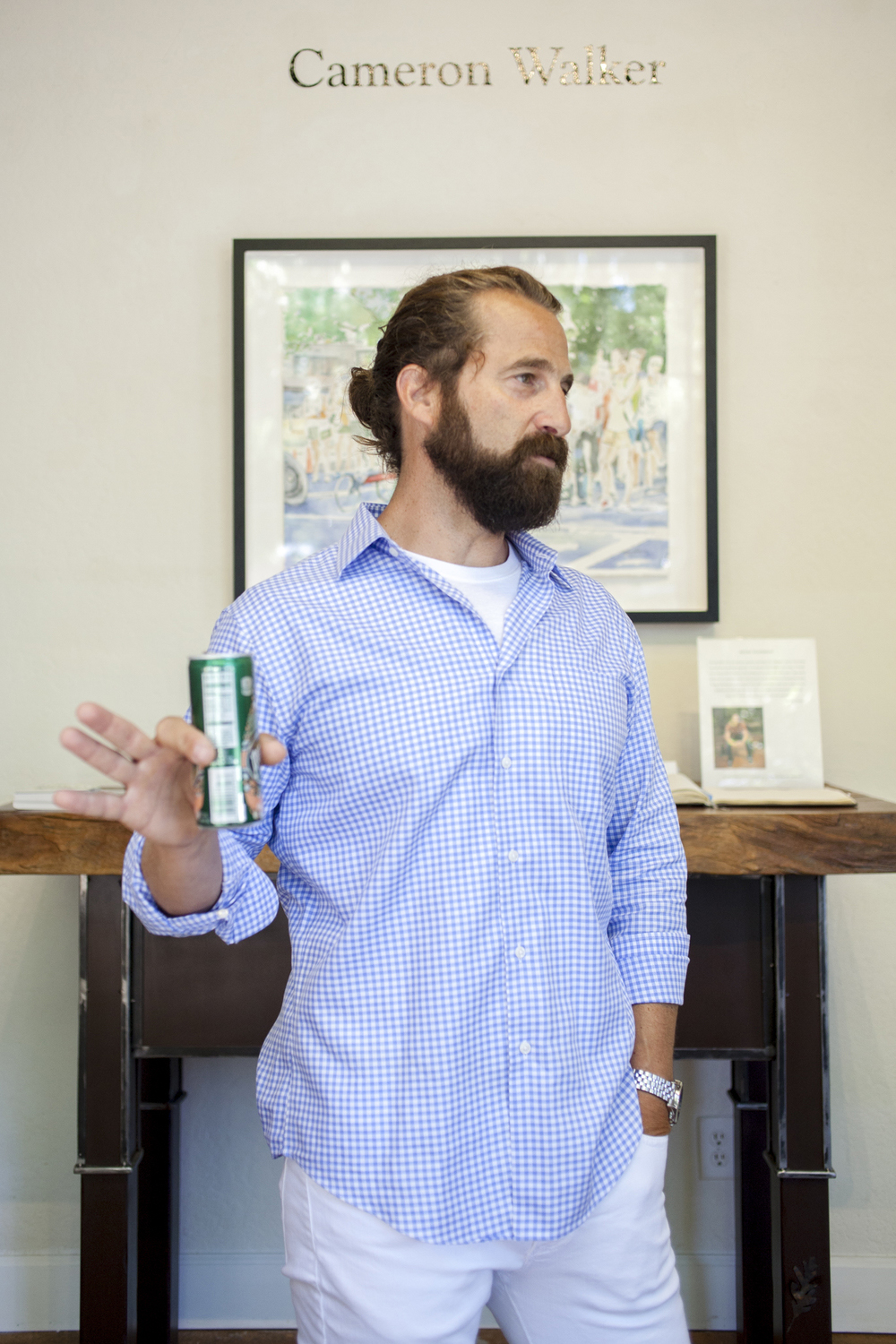 In addition to being an acclaimed watercolorist who also happens to be color-blind, a Marine, a competitive cyclist, dedicated family man, and a generous donor to many local fundraisers… he is also an expert fabricator, creating custom-designed steel and reclaimed wood fabrications for residential and commercial spaces! From small sturdy pedestals to doors for wineries and most recently the majority of work done to Salon N (check it out at the corner of Fair Oaks and Watt Avenues) he forges and welds his materials into strong and stylish pieces. Sourcing wood from Auburn or reclaiming felled trees after forest fires, he shapes hunks of heaviness into eco-friendly furniture design. This month has been a professional whirlwind for Cameron, including his solo painting exhibition, multiple steel fabrications in progress, and his work being on the cover of the local publication "Inside: Land Park".
In the same spirit as he loyally identifies himself as a watercolorist, Cameron talks about his love for Sacramento. "I don't think I'd ever leave," he says. After years moving for work and then living in La Jolla, he returned to his hometown of Sacramento in the late 90's with wife Jen and the first of two much-loved children. He wanted a place that still felt like "the real deal" where people invite you into their homes and share a sense of belonging, but somewhere that offers enough to do. From the bike trail along the American River, to the growing art scene and fantastic restaurants, "the more I dig, the more I get to know." he says, and we whole-heartedly agree. Sacramento is growing and changing every day and we're happy that Cameron Walker is a part of our landscape.
For commissions or more information please contact Cameron at: cwalkdesign@gmail.com or 916.709.4844